---
Netzland provides LAN based Email Solutions to Corporate –
---
LAN-based e-mail is a technology where emails are stored on a local mail server within your office network with a faster, easier, secured and efficient methods.
Netzland provides fully managed LAN Email solutions within a office where it fetches all mails from Netzland Mail Server to your office server, which is hosted the mailboxes for the organization.
---
Solutions
---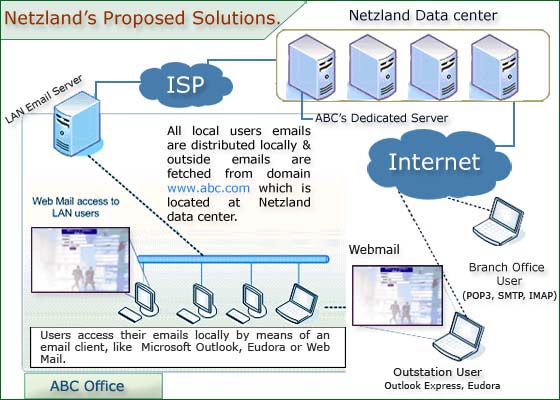 ---
Main Common Features
---
Fastest, most secured, stable fully featured mail server on the market.

Cost Effective.

Workflow Management.

Integrated Antivirus.

Ease of use and setup.

Full multi domain support.

Security, anti spam and anti relay, antivirus options.

Mailbox options.

TCP/IP Protocols - SMTP/POP3/IMAP

Proxy Server.

TLS/SSL - Secured SMTP and POP3 transfers.

Personalized Mailing lists, List servers, Executables, Catalogs, Routes.

Multiple CPU Support.

High Speed Mode Support.

Server, user, domain statistics.

Revolutional Content Filters.

Web, command-line and GUI remote administration.

Powerful WebMail features

And many many more.
---
Background
---
Assume ABC is a company or organization name is having a domain www.abc.com.


ABC has totally 150 users (assumed number of users) in a single location. Some of these employees are outstation employees.


www.abc.com is hosted on Netzland's state-of-the-art Data Centre, which receives mail for all the users of this domain, and all the users access the Netzland mail server directly to check mail either through desktop email clients or Web client.

The Main problem areas are :
Bandwidth utilization when all 150 users access mail directly from the Netzland mail server.

Slow response for in house mails (has to travel to ISP's internet bandwidth and back)

Unnecessarily consuming spaces, bandwith, time, speed.

When the ISP's internet connection will be down, the 150 users can be able to send mail within the office environment.
---
Requirement
---
ABC would like to optimize intra office mail traffic by installing a local mail server on the LAN, since a lot of communication happens amongst the company employees.


ABC would like to reduce the number of mailboxes on the Netzland Mail Server by using an Alias/catchall id for users who don't travel/don't need roaming.


ABC would like to provide roaming access for its traveling employees.


ABC would like to accommodate mailing to and from outstation employees (permanently roaming employees)


ABC users would like to leverage mailing by deploying and using the personal address book, global address book for company wide list of contacts, group mailing etc.


ABC would like to integrate a gateway level anti virus tool to scan all incoming and outgoing mail.


ABC would like to deploy a Linux based messaging solution, which is very easy to use, so that they get a low cost solution with minimum support overhead.


Multilingual web mail access to the users will be an added advantage.


It would be nice to have a Proxy server built in which will allow sharing of the Internet connection by all the users.

---
Benifits
---
Easy to Use
Fast local email, optimized use of the Internet bandwidth and roaming access for traveling users. Full 24x7 administrative access to the remote email server.


Full-Featured
Avail of features like Global Address Book, Corporate Directory, Bulk mail etc using the Enterprise edition of Netzland Connect Server to boost internal efficiency and collaboration.


Additional features
Netzland Connect Server on the LAN can be configured to host a proxy server, a chat server, a FAX server, and other such tools to use it for purposes beyond email.


Contact us for more details at +91-22-27814709 / 39590100 or send email to service@netland.in